EnerVAR Active VAR Generator (AVG)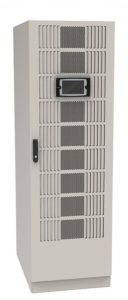 Product Features
Utilizing 3-Level IGBT to generate continuous reactive current, No moveable parts, not affected by Frequency  & Impedance change.
Step-less Reactive Compensation for 3-wire or 4-wire system
Precise Compensation for both Leading and Lagging Power Factor.
Built-in Active Harmonic Compensation Capability from 3rd to 13th orders.
No risk of resonant with harmonic.
Modular and Scalable System Architecture.